Who cares about Ann Quin? I do, for one, but why does no one else seem to remember this writer from the front rank of Britain's literary avant-garde? Lee Rourke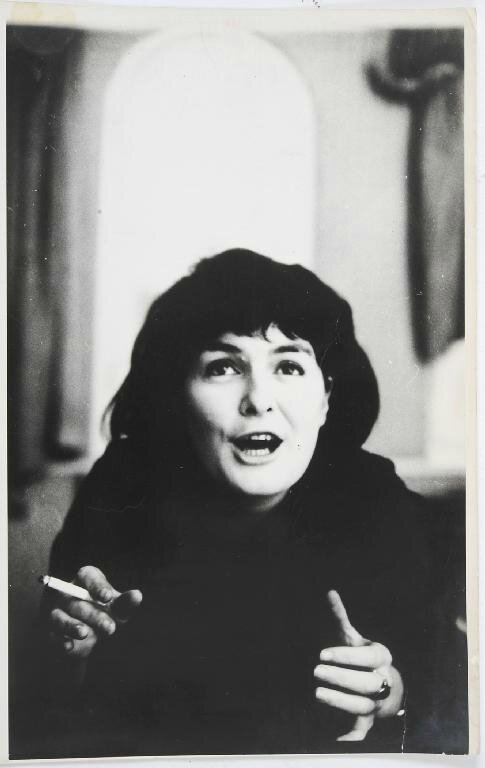 Née dans l'Angleterre des années 30, Ann Quin est une écrivaine anglaise qui n'a laissé à la postérité que quatre ouvrages, rédigés avant son suicide, à l'âge de 37 ans. Malgré son travail de grande qualité, ses livres expérimentaux fortement influencés par le nouveau roman français ainsi que le cinéma nouvelle vague restent encore aujourd'hui largement méconnus. Souvent comparée à Samuel Beckett et Nathalie Sarraute, Ann Quin peine pourtant à s'imposer. Les récents écrits de plusieurs critiques littéraires tentant de la réhabiliter, ainsi que l'adaptation de son roman Berg au cinéma (Killing Dad, en 1989), n'ont pour le moment, pas réussi à inverser cette tendance, même si ses livres sont aujourd'hui réédités.
***
Ann Quin's contemporary, the British writer Christine Brooke-Rose, declared in her wittily furious essay "Illiterations" that to be an experimental author was one thing, but to be British, and not only British, but a woman, and not only a woman, but working class, was quite another. Quin was all four, and so she went into self-imposed exile. For nearly a decade she was a "gonzo" novelist, creating her own biographical picaresque of writing, journeying, and free-loving across Europe and America, and living hand-to-mouth by the grace and favor of her publisher's advances, Arts Council grants, and university fellowships—until, having wandered too far across the terra incognita of map and mind, she reluctantly returned. Quin suffered frequent and extirpative bouts of mental illness and died young, at thirty-seven and by her own hand. She drowned off the coast of Brighton, the south coast seaside resort which provides the setting of Berg and where she lived intermittently throughout her life, in the summer of 1973.
Quin was part of a remarkable coterie of innovative writers that emerged in Britain during the 1960s, including B.S. Johnson, Brigid Brophy, Alan Burns, Robert Nye, Brooke-Rose and others. After a long period of relative obscurity, she now seems to be enjoying a minor renaissance. Her four published novels—Berg (1964), Three (1966), Passages(1969), and Tripticks (1972)—are all back in print with Dalkey Archive Press, and the unpublished ones, together with a cache of her uncollected stories like the one printed here—I hope—on their way too. A critical biography has appeared: Robert Buckeye's Re: Quin (2013) and profiles have begun to sprout up in the mainstream press. And Eimear McBride's rapturously received, multi-award-winning A Girl Is a Half-Formed Thing (2013), for its similarly wicked challenge to notions of narrative convention, has been likened to Quin.
"Every Cripple Has His Own Way of Walking" was published in the radical women's monthly magazine Nova in December 1966, the same year that Quin's second novel, Three, appeared. The story depicts a child, her maiden aunts, and her grandmother, living in genteel impoverishment. Aunt Molly with her asthma and her bedpan; Aunt Sally, rootling endlessly through her hoarded belongings; grandma, Havisham-esque and bedbound—all of them marking time in anticipation of a much-deferred visit from a spivish brother, the absentee father of the child. Quin has a keen eye for how people eke out the meager quotidian, for the furtive ways in which they sequester their longings and their disappointments into tics and flummery and empty rituals. Seldom-seen bright interludes are provided by the baking of a batch of bread-and-butter pudding, an impromptu rendition of "Little Brown Jug." The family's drafty mansion functions as a repository for the suppressed drama of the character's inner lives, and seemingly animated by its freight of secrets it emits a clamor of shrieks and groans.
Many of the tropes and techniques developed in her novels are here. Marginal characters with marginal lives roam, fruit is waxen, milk topped by a coagulated skin, shirt cuffs are tide-marked and one is kept awake by phlegmy coughs in the night. In Quin's books, human perspective is generally found kneeling at keyholes, or pressing an ear against a flimsy partition wall. But through the eyes of the child through whom this narrative is focused, the world is more bewilderingly distant and irreal than ever. It is rendered in chopped syntax and anacolutha; meaning doesn't so much accumulate as is falteringly established and then partially scrubbed out or welded on or overlaid. The verb "to be" is frequently redacted and therefore sentences describe whilst never quite bestowing existence upon. Objects lack solidity and consistency, events a sense of having actually occurred. The undifferentiated dialogue always conveys more or less than what is actually said. Stock phrases trail off because, well, they hardly need completing. Or, what's actually meant has been redacted, and lies hidden somewhere behind the ellipses.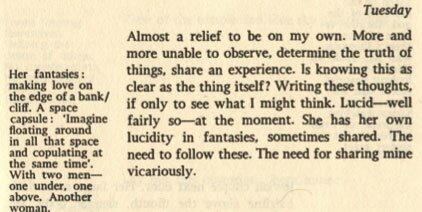 She may well have borrowed her title from the Irish writer Brendan Behan, but Behan's optimism is scarcely to be found. Rather, what animates Quin's work here and elsewhere is a profound dissatisfaction with abiding, with going through the motions, with, as she puts it, the "never changing rituals" of everyday life, together with the hope that something else might be possible.
Jennifer Hodgson