It was too early to get up, but I decided I couldn't sleep any longer in the same bed with this person who I liked just fine yesterday when we liberated two T-bone steaks from the Safeway supermarket which we cooked and ate, much to the disgust of the vegetarians I lived with. After the steaks we drank a gallon of cheap Napa Sonoma red wine and took some LSD... Owsley Purple Barrels. But now he was sweating too much in bed, staining the one sheet I owned with all that wasted power from his pores. It meant he couldn't hold his liquor or his drugs, which irritated me so much I had to escape.
I went to the bathroom quietly so I wouldn't wake the eleven people I lived with. My roomates were spread out among five bedrooms. Five, if you consider the glassed in porch off the kitchen that overlooked the dismal cement courtyard. We shared this courtyard with another building where Janis Joplin from Big Brother And The Holding Company lived. On some mornings I could see her rattling her pots and pans in her kitchen. Sometimes we'd talk across the concrete abyss like housewives.
I put on my eye makeup. It was a throwback to the time when I plastered the makeup on thick and teased my hair. No one else wore eye makeup in the Haight... an occasional Dayglow flower or third eye on the forehead perhaps, but definitely no eye makeup. Then I went out on Haight Street looking for something new. Walking Through Clear Water In A Pool Painted Black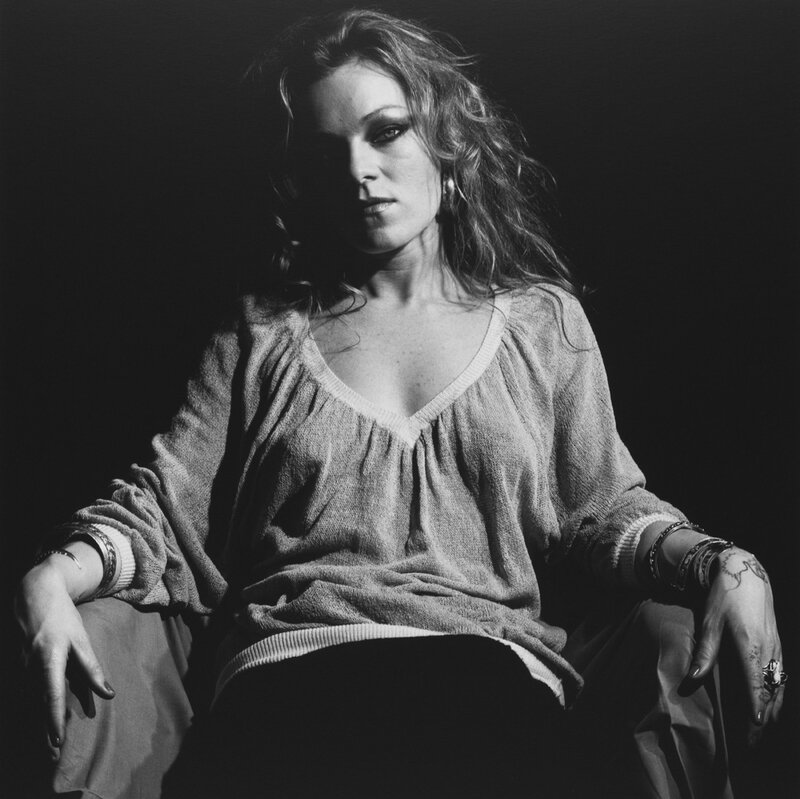 Cookie Mueller wrote like a lunatic Uncle Remus - spinning little stories from Hell that will make any reader laugh out loud. She was a writer, a mother, an outlaw, an actress, a fashion designer, a go-go dancer, a witch doctor, an art-hag, and above all, a goddess. Boy, do I miss that girl. John Waters
Gueule abîmée et tignasse blonde. Pour certains, Cookie Mueller ne se résume qu'à ça. La jolie môme de Nan Goldin, sauvageonne new yorkaise, sexy as hell. Et puis pour d'autres, elle est l'ange cramée de John Waters, l'outrage fait femme sur la pellicule aux bords tâchés. Multiple Maniacs, Female Trouble. Poupée flinguée des 70s, heroine disco ball. Devant l'objectif de Robert Mapplethorpe, le trait d'eye liner fixe, elle était de ces intemporelles, presque trop belle.
Pourtant, Mueller n'était pas qu'un cliché. Mais la liste de ses activités a pu parfois le laisser penser. Mais elle était de ces femmes impossible à cerner, jamais là où on l'attendait. De l'absurde au pathos, Mueller était partout. A travers les lignes, elle s'inventait, encore et toujours, par des mots qu'elle voulait tranchant, mais qui ont fini par s'oublier.
C'est qu'elle en a vu, durant ces années. Gogo dancer, dealeuse, criminelle, it girl, déesse, malade mentale, confidente, artiste, mère, sauveuse. Et la liste peut se dérouler à l'infini. Elle était tout ça à la fois. Mueller l'écrivaine. Mueller la rebelle.
Tout démarre dans les 60s. La vie de banlieue, la vie parfaite. Il n'en faut pas plus pour ennuyer l'adolescente qui n'a qu'une envie, fuir. Elle rejoint la team de John Waters à Baltimore et commence alors la vie bohème. Les squats et la vie d'artistes deviennent le quotidien du Dreamland, tandis que Cookie commence déjà à tâter de la dope. Puis c'est Provincetown, le début de la légende, et de la ramasse. Des histoires qui figurent au compteur de ses Walking Clear Water in a Pool et Ask Dr Mueller, sans que l'on sache vraiment si tout ceci était vrai ou juste les divagations d'une junkie paumée. Pourtant, lorsque Chloe Griffin, sa biographe, interviewera ses meilleurs amis pour son ouvrage Edgewise: A Picture of Cookie Mueller, ils corroboreront pour la plupart du temps les histoires présentées. Une vérité encore plus extrême que celle que l'on aurait pu imaginer. Même si ce n'est qu'une vérité parmi tant d'autres, quand il s'agissait de sa vie brûlée.
Sharon Niesp (an ex-girlfriend) describes a visit with 3-year-old Max to the Boston aquarium, where they saw a group of people clustered around the octopus tank, mocking it for being ugly: "We all got up to the window and Cookie was going, 'Isn't it beautiful, Max?' and Max was saying, 'This is really pretty, you're really beautiful.' And then, I swear to God on the ashes, the octopus straightened out like this and pressed itself against the window and showed itself off, and not only that, but its little baby that it was hiding opened right up, too. They both put their tentacles on the window and were showing themselves off. And Max was touching the window and he and Cookie started crying. She was really cool like that."
H24 stone, à en effrayer un Hunter S. Thompson déjà bien téméraire, Mueller distille un style vif et abrupte, presque impressionnant, quand on sait l'état dans lequel elle était la plupart du temps. Et puis la fin du voyage, New York. Nous sommes en 1976 lorsque Cookie s'établit à Bleeker Street, où elle transforme son appart en réserve de coke. A côté de ça, Mueller fait la fête auprès des grands noms de l'époque : Richard Hell, Lynne Tillman, Peter Hujar. Elle écrit également pour des magazines tels que Details ou le East Village Eye. Elle s'embarque par la suite en Italie, où elle fait la connaissance de son futur mari, l'artiste Vittorio Scarpati.Tous deux sont atteints du sida à ce moment mais ça ne les empêchent pas de se passer la bague au doigt. Un peu de beau dans cette vie en sale état.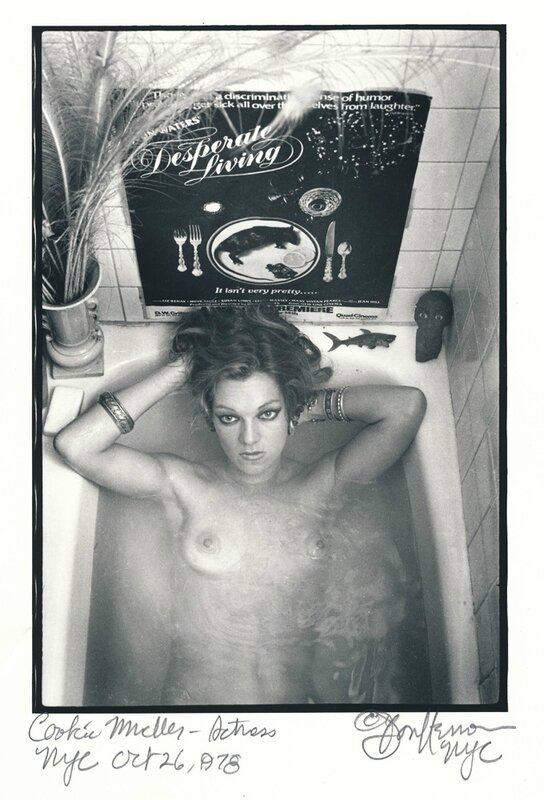 En 1989, Cookie meurt à l'âge de 40 ans. De ce moment, on garde le cliché de Nan Goldin, prise à l'église St Mark. Les deux femmes, jusqu'à la fin.
****
THEATRE
As far as theatre goes I wasn't born yet, at best I am in diapers. I wasn't around for the advent and sweep of the revolutionary third force indulgence theatre; I mean the New York fun with the audience theatre of the late '50s, the '60s, and the early '70s, where most of the time it wasn't necessary to separate the performing area from the listening and seeing area in order for the audience to grasp the artistic purpose.
I missed everything: The Living Theatre, Cafe Cino, early La MaMa, early Ridiculous, Absurd, even Polish (Grotowski). I missed the walk in the Valley of the Kings of Persia with Peter Brook. The Open Theatre, after hours pieces from 4 AM to dawn; all the theatre that destroyed the fourth wall of illusion, I knew little about. I wasn't in the audience in Central Park running with the big rolling wagons of perfomers, all set to the Italian poem "Orlando Furioso."
What's happening in the '80s? Going to the theatre now is just like going to the movies. You file in and watch a large rectangular box stage all lit up with authentic live action. You don't have to speak to anyone at all. I feel comfortable not being asked to take off my clothes and do mirror exercises with stretchmarked strangers as once happened to me in a San Francisco theatre: I think it was some extension of The Living Theatre. I don't like people catching my eyes and then hurling things at me from the stage, especially if it's liquid or food. It doesn't make me want to jump to the stage area and start to act or react; being the shy violet type that I am, although I think I would have loved to dodge and chase those big wagons on wheels or ridden on the backs of actors or have been carried around by them, basically pampered, all my needs fulfilled by one gorgeous actor, but not on the stage; in the last row in the back in the corner in the dark.
In the news today the headlines said ZAPS BOY FOR GOD. I'm sure everyone read it, it was about this Bible school teacher who uses electric shock on his little pupils to get them to hear the word of God. Now that's theatre! It gets the point across neatly with no unnecessary hoopla. Do you think it would work in Broadway theatres? No . . . 80 percent of the audience would have to be carted off in ambulances for heart resuscitation. It's a sea of silver hair in front and all around. Sometimes the audience is better than the play, which isn't saying much, although in the case of a musical comedy, commercial theatre has developed a significant art form. It seems that Broadway theatre, if it is at all stimulating, has been motivated by non-commercial theatre.
I think the thing that bothers me most about Broadway shows are the actors. They smile too much. I used to go to casting calls and the place would be crawling with these types. They had no character of their own but could whip on a new character face that could be downright charismatic and sexy. There are those people who have that amazing ability to observe and reproduce the behavior or inner sensibilities of people who are more appealing to an audience. I admire it but it makes me uneasy, it's like dealing with Sybil and her 11 personalities.
To be an actor person you have to 1. be a slave (in ancient Rome all the actors were slaves, able to sing and dance at the snap of their manager's fingers; he owned them.) 2. be willing to do things that are alien to your character, such as making an asshole out of yourself in front of a lot of people.
I've seen a few plays lately that were good, but I can't seem to get away from watching the audience a lot of the times. I noticed this couple one evening, they sat right in front of me, they were all over each other, kissing, touching, licking loudly. They were great to watch, but the oddest thing was, I saw them again at another play—the same week. Their behavior was the same, the only thing that inhibited them were the arms on the seats. But this time, during intermission, they made a complete reversal. They didn't even hold hands and were often mean to each other. I overheard their conversation.
"Did you understand that? I didn't get it," the man said. The woman said, "When the playwrite wrote it he wanted to be understood, but I think he also wanted not to be understood. He didn't want to be understood by just anybody."
When they went back to their seats they started their overt foreplay again. The theatre is obviously holding their sexual relationship together. They must see a lot of plays. I wonder what they're like at the movies?
Here are some mini-reviews of plays I've seen that are worth mentioning. I am not judging. I'm not a critic; just because I've acted in a couple of plays doesn't make me qualified to write reviews. Some critics are dilettantes, a few are real writers, who either have no knowledge of the inner workings of the theatre artists or are so brilliant that they can afford to be mean.
BROADWAY
Amadeus Broadhurst With all the prepublicity gossip (copraphagy was mentioned) I expected to see Mozart sit down to a steaming dish of fecal matter but it's not in the play.
A Day in Hollywood A Night in the Ukraine Royale I was embarrassed for the actors. It's a story about theatre employees and the Marx Brothers. Despite my better judgement I find myself laughing at these kinds of plays. The people that sat behind me were fighting all through the play. That part was good.
Lena Horne: The Lady and Her Music Nederlander This was exciting. The audience goes wild.
The Pirates of Penzance Uris I have some friends in this production. The costumes are fashionable, you might get some pointers.
The Floating Lightbulb Vivian Beaumont This is Woody Allen's play and I was entertained but it's about poverty and average Joes, miscarried dreams, all that stuff that is pretty overworked. The kid (Brian Backer) Paul in the play, who won the Tony for this role, impersonated Woody Allen so well that I'm sure he must have walked around in Woody Allen's sneakers for a few weeks. It closed July 5th.
The Catherine Wheel (Twyla Tharp, David Byrne) Winter Garden Immediately I thought that each dancer should have been about five feet taller or the ceiling should have been lower. The June Taylor dancers also came to mind. The set was broken up by poles that looked like vertical plumbing fixtures. The dancing took over for the language and the plot was sort of like a violent soap opera. The music was inspired. (The dancers were quite accomplished and I speak from 15 years of ballet experience.)
OFF BROADWAY
Cloud 9 Theatre De Lys This writing is original and I laughed a whole lot.
Entertaining Mister Sloan Cherry Lane Theatre This is a Joe Orton play and I really liked it. It's extremely well cast and is tight. The actor Maxwell Caulfield (Sloan) is so good looking that the audience's breath is taken away when he appears. There were audible gasps. I laughed all the way through. One of the lines delivered by the misogynist character Ed Joseph Maher was his opinion of women . . ."half-witted tarts frightening everyone with their clothes." Don't miss it.
Love's Tangled Web Ridiculous Theatrical Co. This is Charles Ludlam's new piece and like everything else he does it is funny and ingenious. I would never miss one of his plays because they're always worth it. Charles is amazing. He closed it on July 5th but there's more wealth where that come from. Don't miss the next one.
OFF-OFF BROADWAY
Borders Theatre for the New City I liked this play, but you can't see it because it's closed. It was funny and touching. Susan Tyrell was remarkable, her timing is so good. It's a story about three strange but average citizens, the words they speak are witty Americana. It's obvious that the playwright (Charles Eastman) has a good ear. One line . . . "I have three girls . . . no four girls, two are twins." Another phrase . . . "sometimes we think back and forget."
New Mime II American Theater Laboratory I usually hate traditional mime but this was different. It was really a clown act, comprised of balletic dance, juggling, accordion playing, etc. Bill Irwin, the 1981 Obie Award Winner, is the creator and he's extremely talented at everything he does although I became nostalgic for the spoken word because I began to feel as though I was in a vacuum. There was a Commedia del Arte segment that was funny. The audience absolutely couldn't contain themselves and I guess he'll be a star because he attracted the like of Alexander Cohen and Joe Papp, Baryshnikov, Meryl Streep. I contained myself.
Untitled (The Dark Ages Flat Out) Ohio on Wooster Street This piece by Matthew Maguire was an insightful experimentation with lots of different modes. There was nothing stagnant and people will probably copy it.
THE DON'T MISS IF YOU GET THE CHANCE LIST
John Vaccaro, the founder of The PlayHouse of the Ridiculous, whom I've worked with, is a brilliant director. He makes the actors expand by expecting everything from them and the audience in turn feels the unique excitement. Night Club, the play written by Ken Bernard and produced in 1970 at La MaMa, will be rekindled on November 5th at La MaMa again in honor of Ellen Stewart with John directing, of course. Go. He's also directing American Indians in Body Indian I and II, which will play in Buffalo and Philadelphia among other places.
I'm also waiting for a new play written by H.M. Koutoukas, although I hear he still writes and stages secret performances for patrons. I've worked with him before and he is truly one of those writer-geniuses to which few compare.
I have to mention a person named Robert Anton. He is a writer, director, theatre owner, designer, you name it. His theatre just happens to be only five feet long and four feet deep. The actors and actresses on the average are about eight inches tall. They are not puppets and this is not a puppet show in the traditional sense of the word. It is more like Voodoo Mystery-Funk-Occult-Mini-Circus-Pleasure-Acts. The only problem here is where to find him next. The audiences are usually by invitation only and he doesn't live anywhere right now. The great thing about the seating arrangement in this portable theater is that even in the last row you are only three feet away from the stage.
I want to see what Gary Indiana comes up with next. He is never dull.
I want to mention a poetry reading that I went to. Emilio Cubero read his new work written on his trip around the world: Banged Up in Bombed Out Bangkok is one, The Ballad of Asshole Mary the Cop Killer is another. These poems are not for the weak, they are hardcore and funny. He talks about "the meat at the end of the rainbow." If you ever get a chance to see him read, do so. He also has body language.
Last weekend on the corner of Wooster and Spring I saw a street performer. He was so great, changed his costume five times, each one more imaginative than the last. He finished by painting himself, then squirting himself with foam, then dumping a bucket of water on his head and body. I don't know his name.
A friend of mine just told me that the best theatre to have sex in is the Paris Opera House because you can get your own box seat with the curtains you can draw.
[BOMB Magazine Winter 1982]